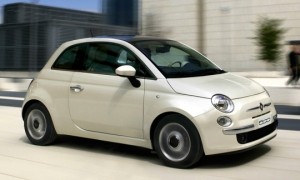 The Fiat 500 is a cute car, and is often favoured for its style over performance. This hatchback comes in five editions- Pop Star, Cult, Colour Therapy, Lounge and the 500S- making each retro body an ideal ride for any city-goer, regardless of age or gender. Light steering and a small (but mighty) engine makes this little bundle of joy an effortless option for any driver seeking to add a bit of fun to their journey.
Interior and Equipment
The interiors make the car feel like a vamped-up version of the Scooby-Doo mobile, with neutral colours and plush seats that you can really sink your body into. They provide great back support for driving around all those twists and turns down country roads.
This classic three-door comes in a range of colours including mint green, with a vintage steering wheel and wheel valve caps. All the perks you would expect from a trendy Italian motor are available- including heated door mirrors, a SkyDome glass roof and mandatory USB ports to charge your iPhone.
Performance and Handling
Engines range from the economical 69bhp 1.2 litre engine to the compact 875cc turbocharged TwinAir engine fitted to sportier models. The TwinAir gives better performance than some engines twice its size.
The latest Fiat 500 has decidedly better suspension than earlier models, and its electric power steering system offers artificial resistance making it feel a little more "real" than systems fitted to some EPS equipped cars. Mix this all together and it makes the baby Fiat fun to drive.
Why rent a Fiat 500 from Norwich Car Hire?
The 500's dinky dimensions means easy parking- plus its perky engines are capable of keeping up on those pesky motorways.
Click here to rent the Fiat 500 or a similar car from Norwich Car Hire