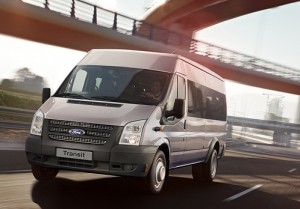 The Ford Transit 17 seat Minibus really is the ultimate people carrier. Whereas MPVs are basically cars trying to do more than they were originally intended, the Ford does exactly what is says on the tin, it's a minibus.
Interior and equipment
The interior is classic function over form, there are plenty of chunky cup holders and cubby holes for storing things. It does feel a bit plasticy, but let's face it, it's a van and it's not trying to be anything fancy. There is plenty of space up front though and visabilty is excellent.
All of the passenger seats have a fixed back and are bolted down, so unfortunately you cannot convert the minibus into a van. All 17 seats have seatbelts and are accessible from the aisle. The only downside with having all those seats is that there isn't much room left for luggage.
Performance and handling
Despite the size it doesn't actually feel that big from the driver seat, but it can become a problem if you find yourself down a tight dead end road. The steering and general feel give you the confidence to drive along at a reasonable pace and ride is adequite.
Why rent a Ford Minibus from Norwich Car Hire?
If you need to transport a lot of people then a minibus makes perfect sense, you can seat 17 people in comfort.