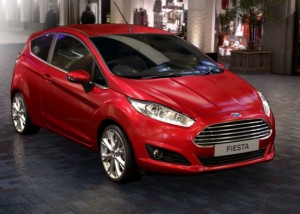 The original Ford Fiesta first appeared way back in 1976. This latest version of the popular supermini is both fun and refined, so much so that it feels a lot like its bigger brother, the Ford Focus.
Interior and equipment
The current Fiesta is bigger than the previous model, and just as spacious as most of its rivals. You won't find much legroom if you're sat in the back, so the rear seats are best left for the kids. Up front there's much more room though and lots of seat and steering wheel adjustments mean people of all shapes and sizes will find it easy to get comfortable. The boot is a pretty good size, but the rear seats don't fold completely flat.
Performance and handling
The Fiesta is extremely agile and changes direction with the immediacy that would surprise much more exotic sports cars. The chassis is another master piece from Ford, with minimal body roll in the corners and plenty of confidence-inspiring grip. Within just a few miles you'll realise that the Fiesta is one of the sweetest handling superminis available and the ride quality is better than other cars in this class.
Ford's latest ecoboost engines are also brilliant, they build revs smoothly and eagerly providing decent power with fantastic fuel economy.
Why hire the Ford Fiesta?
The Ford Fiesta is arguably the best supermini currently available, it's fun, practical and economical. It makes an ideal car for visiting large cities, its small size and nippy engines will make sure you get to see all of the attractions, while still looking stylish and providing high levels of comfort.