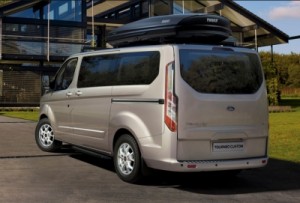 The curvaceous Tourneo is a to-go-to if you are looking for a people carrier. This personable front wheel drive MPV comes equipped with 8-9 seats; making it perfect for proms, weddings or birthday parties. Comfort and space are the Tourneo's top qualities, ranking it a family friendly version of passenger vans such as the Volkswagen Caravelle or Mercedes Vito. Thanks to its refined styling, this is one minibus you wouldn't mind pulling up outside the venue in.
Interior and Equipment
This MPV's main attraction is its passenger space- including headroom, shoulder space and legroom. Guests in fancy hats and wedding dresses will thank you for it! Every one of its 8/9 seats comes with its own air vent, so a busy bus will never be a sweaty one. The seats are flat folding and can adapt to thirty different configurations, making the Tourneo a simple option if you are looking to cater for an occasion.
It has space-shuttle exteriors, with two sliding doors for (gracefully) shuffling guests out of. A standard DAB radio and iPod connector is installed on the driver's dash, giving you easy access to a boogie on the way.
Performance and Handling
All Tourneo Customs come with a 4-cylinder 2.2-litre Duratorq (TDCi) engine; however there is a choice of output levels (99bhp, 123bhp and 153bhp with 385Nm of torque). Engines are connected to the road by a 6-speed manual transmission, and cruising speed is easily reached at 1,500rpm.
The Tourneo has an elegant rounded nose and a `parking pilot` system making it easier than you would think to manoeuvre into tight spaces for a vehicle of this size.
Why rent a Ford Tourneo minibus from Norwich Car Hire?
The Tourneo is like a wolf dressed in sheep's clothing; it drives like a mid-range Ford, but is built with the utility of a handy people carrier. If you want practicality and a fun ride, the Tourneo is for you.
Click here to rent the Tourneo Custom or a similar MPV/minibus from Norwich Car Hire