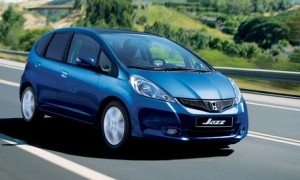 The Honda Jazz is a mature take on the popular supermini hatchback. Well-presented and easy to drive, the Jazz is an ideal car to use about town. With lots of adaptable space for prams and wheelchairs, this old favourite is perfect for taking the children or grandchildren out in. The Honda Jazz rivals other compact motors on the market, such as the Volkswagen Polo and the Ford Fiesta. What's more, it comes in some very fetching colours!
Interior & Equipment
The Honda Jazz comes in three trim levels with a variation of features; the base spec (S) and the upgrades (SE and EX).
The basic trim level (S) comes with automatic lights and wipers, manual air conditioning and cruise control with speed limiter. Flat folding "Magic Seats" are fitted on the rear, allowing prams and wheelchairs to fit comfortably inside.
The interior is filled with durable materials, which is ideal if you are wanting to seat young children in the back. Although the Jazz is a small car, it still has room for fabulous saloon style seats!
Safety features include lane departure warning, traffic sign recognition and an emergency braking function.
Performance & Handling
The new Jazz comes with economical 4-cylinder 1.2 and 1.4 litre (i-VTEC) engines, and the range also includes a 1.3 litre petrol hybrid. Output levels are ample for a car of this type with the flagship 1.4 producing 99 PS and 127 Nm of torque. Engines are connected to the road by either 6-speed manual transmission or the optional cruise-worthy automatic CVT gearbox.
The car is front-wheel drive, and picks up at a steady pace- reaching a maximum of 118mph, and hitting 62mph in a comfortable 11.2 seconds.
Why rent a Honda Jazz from Norwich Car Hire?
If you are looking for a sensible car with reasonable performance, the Honda Jazz is for you. Fussy features are limited, making it an easy choice for the mature driver.
Click here to rent the Honda Jazz or a similar car from Norwich Car Hire
Click here to rent the Honda Jazz Auto or a similar car from Norwich Car Hire