Mercedes Sprinter- German build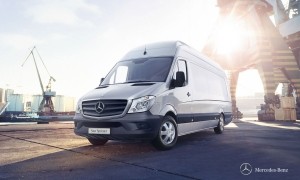 Practicality is a virtue for the Mercedes Sprinter, which comes in a variety of dimensions and weights to suit business needs. The V6 version of the German born motor adapts to 4-wheel drive with the tap of a button, making it easy to transport both people and possessions through course weather and terrain.
This sleek multi-tasker is popular for its safety gear and abundant storage space; an all-rounder for companies on the move. The Sprinter is easy on the eye, with its curved headlights and a range of smart colours.
Interior and equipment
The Sprinter is ultra-spacious inside, with holders for cups, bottles and clipboards. It has smart looking cabins, with elevated seating and plenty of legroom. This Mercedes model is often compared to the Ford Transit for layout, but it cannot be beaten for aesthetic class. Its tinted windows ensure extra security for your goods when parking up.
Safety gear such as collision prevention and lane departure warning is installed within some models, with a seven-speed ECO Gear manual gearbox as a fancy highlight. The 2015 Sprinter comes with between 7.5 cubic metres of load space (SWB, standard roof) to 15.5 cubic metres of load space (extra long panel van with high roof), and has an easy-to-load backend.
Performance and handling
There is a choice of engines. The 4-cylinder CDI diesel engine can be selected with a choice of output levels (95 hp, 129 hp and 163 hp), and for superior performance there is also a V6 CDI diesel unit developing 190bhp. Engines are connected to the road by 6-speed manual transmission or the optional 7G-TRONIC PLUS 7-speed automatic transmission for improved smoothness and economy.
The Sprinter drives well off-road, and a low-range function is available on some Sprinters, so you needn't worry about rocky driveways or accessing the company site out of town.
Why rent a Mercedes Sprinter from Norwich Car Hire?
This reliable transporter has so many benefits for the modern day delivery driver; including privacy windows, heaps of storage space and reasonable room to stretch your legs.
Click here to rent the Mercedes Sprinter Van from Norwich Car Hire