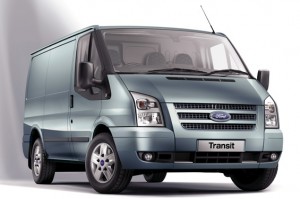 The all-conquering market-leading Ford Transit is the van of choice for many businesses across the UK. Ford offers a variety of engines and a six-speed gearbox is standard across all models. Ford has introduced two new ECOnetic versions that provide better fuel economy and lower CO2 emissions, there's also an ECO-pack that includes stop/start technology and a 70mph speed-limiter.
Cab
The quality of materials used and the fit and finish are average, but you won't be wanting for storage space. You'll find a big bottle holder and a cup holder at each end of the dashboard and a large hopper-type compartment in the middle, plus a flip-down tray on top with yet more cup holders. There are also plenty of cubby holes, two 12V power points and both doors feature plenty of storage space too. Ford have also been thoughtfull enough to fit the dashboard with chunky easy-to use controls for both the heater and ventilation system.
Overall the cabin is pleasant, comfortable and offers good visability ahead and to either side. The dual-passenger seat is adequate, but legroom for the inboard occupant is limited.
Load area
Access to the rear cargo bay is via a sliding nearside door with a step just inside it or the twin rear doors that can be opened 90 degrees or 180 degrees if you release the user-friendly stays. There are plenty of tie-down points as well as two interior lights, plus another 12V power point.
Maximum load space is 2582mm length and 1762 width narrowing to 1390mm between the wheel boxes. Maximum height is 1430mm.
Why rent the Ford Transit?
Simply put, it's probably the most popular and dependable van out there. It's not only practical, but also economical and features a lot of Ford's excellent safety technology.