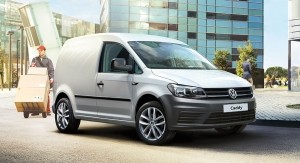 The Volkswagen Caddy is a compact van with car-like convenience. It is an ideal hire for practical businesses, with its comfortable interiors and sturdy loading space. This fourth generation Caddy comes with much smarter styling than its predecessors, making it a good choice for moving a load in style. Its main rivals include the Ford Transit Connect, Fiat Doblo Cargo and the Mercedes Citan based their abundance of safety tech.
Interior and Equipment
This light van has ergonomic materials and well placed controls, making it a safe and easy ride for the busy commercial driver. The driver's seat and steering wheel adjusts for height, reach and rake- ensuring you are comfortable throughout your journey. It is fitted with an easy to reach gear lever, minimising strain during travelling and removals.
The steady loading bay is complete with chunky door handles, door activated lighting and six load lashing rings. The standard wheelbase panel van offers 3.2 cubic metres of load volume. Other van models include the Caddy Maxi (with 4.2 cubic metres of load volume) and the fuel efficient/low emission Caddy BlueMotion.
The Caddy is available with many perks from the Golf range such as cruise control, hill hold assist and VW safety programs (ESP, EBD and EDL) to prevent swerving and skidding in an emergency. It is also named as the most reliable van in its class by the independent Fleet News 50 report.
Performance and Handling
Volkswagen Caddy vans come with a range of diesel engines varying from the 75PS 1.6 TDi through to the 140PS 2.0 TDi. Engines are connected to the road by a five or six-speed manual transmission, depending on the output level. DSG transmission is available as an optional extra.
Why rent a VW Caddy from Norwich Car Hire?
Volkswagen is evangelical about safety. The Caddy is no exception, with many features designed primarily around keeping occupants and loads safe.
Click here to rent the Volkswagon Caddy or a similar van from Norwich Car Hire